share on facebook / mail:
Jes Bertelsen and Vaekstcenteret
Jes Bertelsen, Ph.D., has been head of Vaekstcenteret in Noerre Snede, Denmark, for 24 years. Originally Associate Professor in philosophy at the University of Aarhus, Jes Bertelsen specialized in Soren Kierkegaard and C.G. Jung. He is the author of 19 books on Jungian psychology, Christian mysticism, personal growth, meditation, spiritual practice, and Dzogchen. A number of these books have been translated into Dutch and German.
In 1982 Jes Bertelsen founded Vaekstcenteret with a group of students and co-workers as an attempt to create a spiritual community that provides teaching and workshops focused on mind training and spiritual living. The community rapidly increased in size to become the home of some 60 people, and that is still the number of residents. The residents are engaged in integrating spiritual practice with an active social and creative life.
From its start in 1982 to approximately 1992 training at the Center focused on the "perspective of the Self". In 1989 Jes Bertelsen's meeting with the Tibetan spiritual teacher Tulku Urgyen Rinpoche signalled the beginning of an intensive process of transferring the essential parts of Dzogchen ("The Great Perfection"), one of the most profound practices of Tibetan Buddhism, to Western reality.
Rinpoche empowered and authorized Jes Bertelsen to teach all the stages of the practice of Dzogchen, and to do so in a way suitable for the West-ern mind. As it turned out, Jes Bertelsen's early focus on psychotherapy proved to be an important prerequisite to the spiritual training of the mind and heart - as did the involvement with various tantric practices, the training of the body-mind, energy balancing, and the effort to integrate this into ordinary working and family life. All these activities have become the pedagogical foundation for the endeavours to uncover our inherent spiritual intelligence.
During all these years Jes Bertelsen has focused his efforts on describ-ing this process and on supervising a large group of students. The five texts in this publication are examples of his work. The first, "Awareness", is an introductory text for meditation practitioners. The following texts, "Open Heart, Open Mind", "What is Dzogchen?", and a chapter from "The Practice of Dzogchen", Jes Bertelsen's latest book, are attempts to make the subject accessible to Western spiritual seekers. Finally, the teaching "Tradition and Modernity" from October 2005 deals with issues that Jes Bertelsen sees as essential in the process of transferring Eastern spiritual wisdom to a European cultural context.
We hope that these texts – published in English for the first time – will provide an opportunity to perceive and appreciate the unique gift that Tulku Urgyen Rinpoche gave to Jes Bertelsen, a gift which might stimulate spiritual practice in our part of the world.
Editorial by
JENS-ERIK RISOM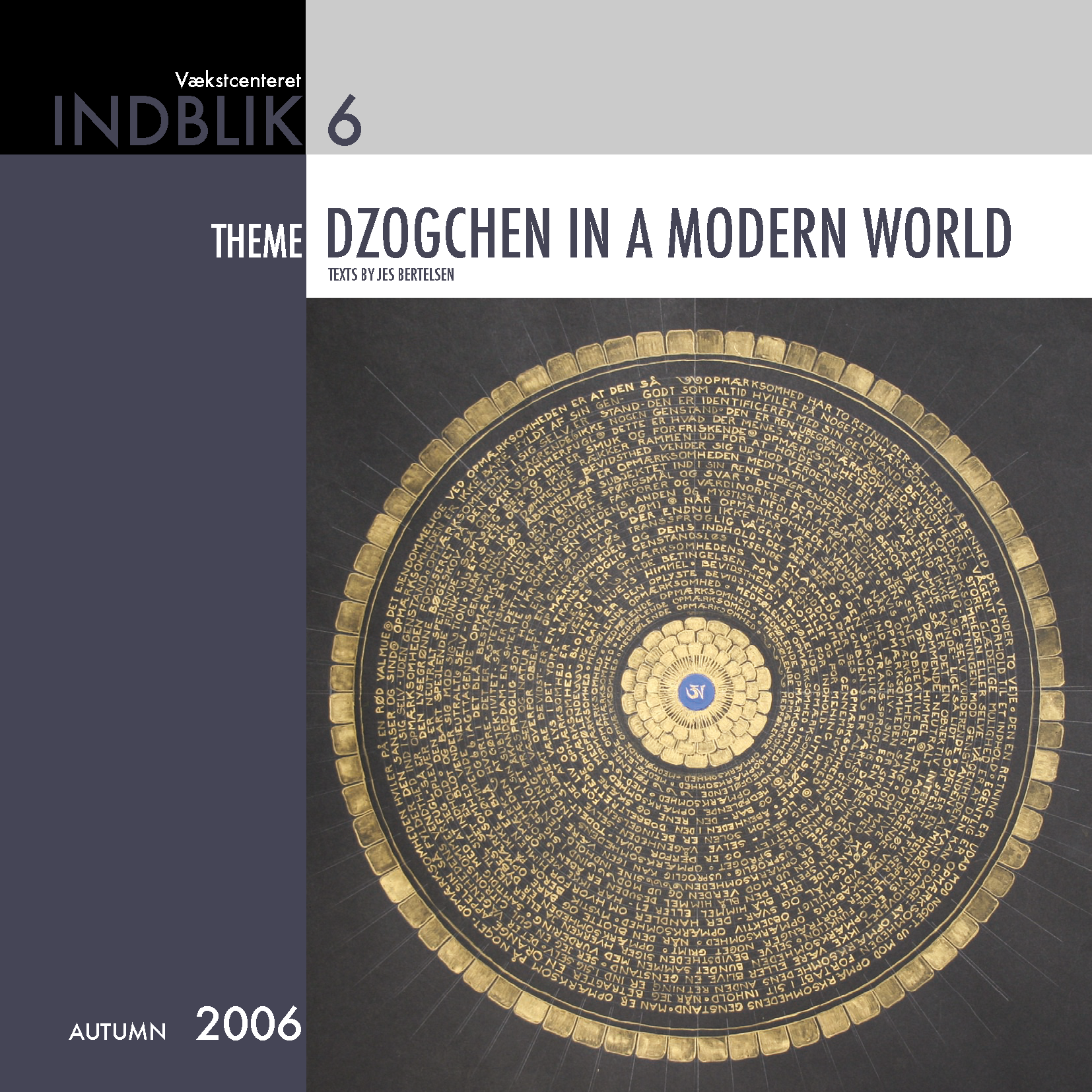 Excerpt from INDBLIK 6 – a theme publication on DZOGCHEN IN A MODERN WORLD, texts by Jes Bertelsen, Vaekstcenteret 2006